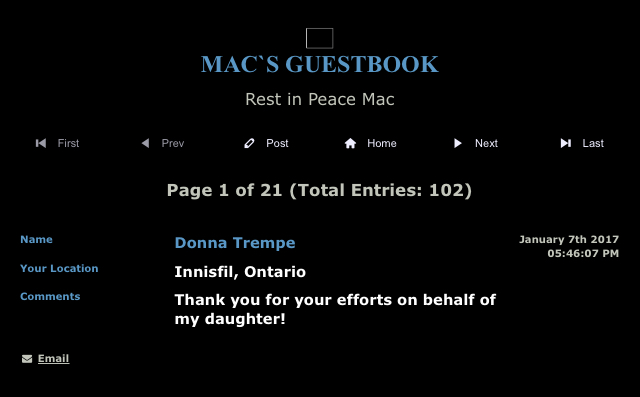 This is Courtney

2005 Committee Testimony

Neither OVMA or CVMA support Breed Specific Legislation

OVMA wrote to Party Leaders in 2012
Please read OVMA Letter.

CVMA Position Statement
I would like ALL Parties to come together to support Courtney`s Bill/Law in memory of Courtney Trempe.

(akin to Rowan Stringer`s Concussion Bill)

Rowan`s Law (Concussion Safety) passed with all Party Support

Courtney`s Law would remove the Breed Specific Language from DOLA,
implement more of the Provincial Trempe Inquest Recs
&
encourage Federal,Municipal Gov`ts & Media to consider the Recs suggested to them by the Inquest.

I have the support of Courtney Trempe`s Mother who has contacted me

It is important to get the focus off 'pit bulls' to stop the incessant non constructive arguing by both pit bull lovers and haters and get it on to Effective Laws.
---
Courtney Trempe was a little girl killed by a neighbour`s dog in 1998
(A dog not impacted by BSL)
An Inquest was held into her death and out of that came 36 recommendations.

All but a few were ignored by Gov`t.

Instead they chose to enact BSL years later which does not improve Community Safety.

It would not have helped Courtney, as the type of dog that killed Courtney is not a type targeted by Breed Specific Legislation (BSL)

Courtney`s Mother testified to that effect at the Committee Hearings prior to the passage of Bill 132 (Amendments to DOLA)

I propose as we go forward in our attempts to have BSL repealed,we fight this fight in Courtney`s memory.

A memorial fund was set up in memory of Courtney to provide support for child victims of dog attacks and their families.

You can read articles written by the designated witness from the Trempe Inquest on the Failure of the amendments to DOLA
(Dog Owner`s Liability Act)
to improve Public Safety and the threat this Legislation poses to all dog owners.
(I can be contacted via Private Msg in Guestbook Link on right)